Despite claims from critics that he would slow down Liverpool's play ahead of his arrival, Thiago Alcantara now holds the key to midfield…
HAVE YOU ever looked at greatness?
I mean, true greatness. The kind that makes you sit back, shake your head in disbelief and think "wow".
A mate tells me that twice he didn't celebrate Luis Suarez's goals, or at least not in the conventional sense. Instead, he just stood still and repeated the same swear word out loud multiple times. True admiration.
That's what it's like to watch Thiago Alcantara play football. A midfield maestro, Liverpool's not-so-secret weapon.
Not so long ago, some suggested he would slow us down and hurt Klopp's style of play. It was a take adopted by several pundits amid the most extenuating circumstances last season. The defenders were out, the midfielders became the defenders and Thiago was suddenly asked to handle the load.
This season though, with the difficult circumstances now removed, Thiago has cemented his status at the heart of Klopp's engine room, shining in a squad full of talent. In the last week alone he has produced two of the best midfield performances you will see.
He was exceptional against Manchester City in the FA Cup semi-finals, seemingly bending the game to his will, avoiding tackles and putting Liverpool on the front foot. His assist was the illustration of a master at the top of his game, manipulating space, dropping a shoulder to fool his opponent before finding a teammate. It was everything you could expect from a midfielder and more.
And yet, just like you think you've seen it all, he somehow finds a way to raise his level again.
There are good performances – even great ones – and then there is Thiago against Manchester United. He was untouchable. Irresistible.
It was the type of performance that sent you into a sort of hypnotic trance. He was everywhere and anywhere. Control, dictate, direct. Klopp's orchestrator at the top of his game. You'd be hard pressed to find a more dominant midfield performance.
His tackles put Liverpool front and center and his general awareness and reading of the game allowed the front three to go wild. He oozed class from the first whistle to the most deserving standing ovation Anfield will give all season. He is the ultimate chess player, able to anticipate every move. A touch of class. A player in a league apart.
Breaking down low-block defenses has been a problem in recent years, but with Thiago's quality on the ball, those problems are a thing of the past. He is so often the man who takes control of the game, picking the lock and throwing the punch. Even when pressed, he possesses the uncanny ability to wriggle free. No wonder Paul Pogba packed it after nine minutes.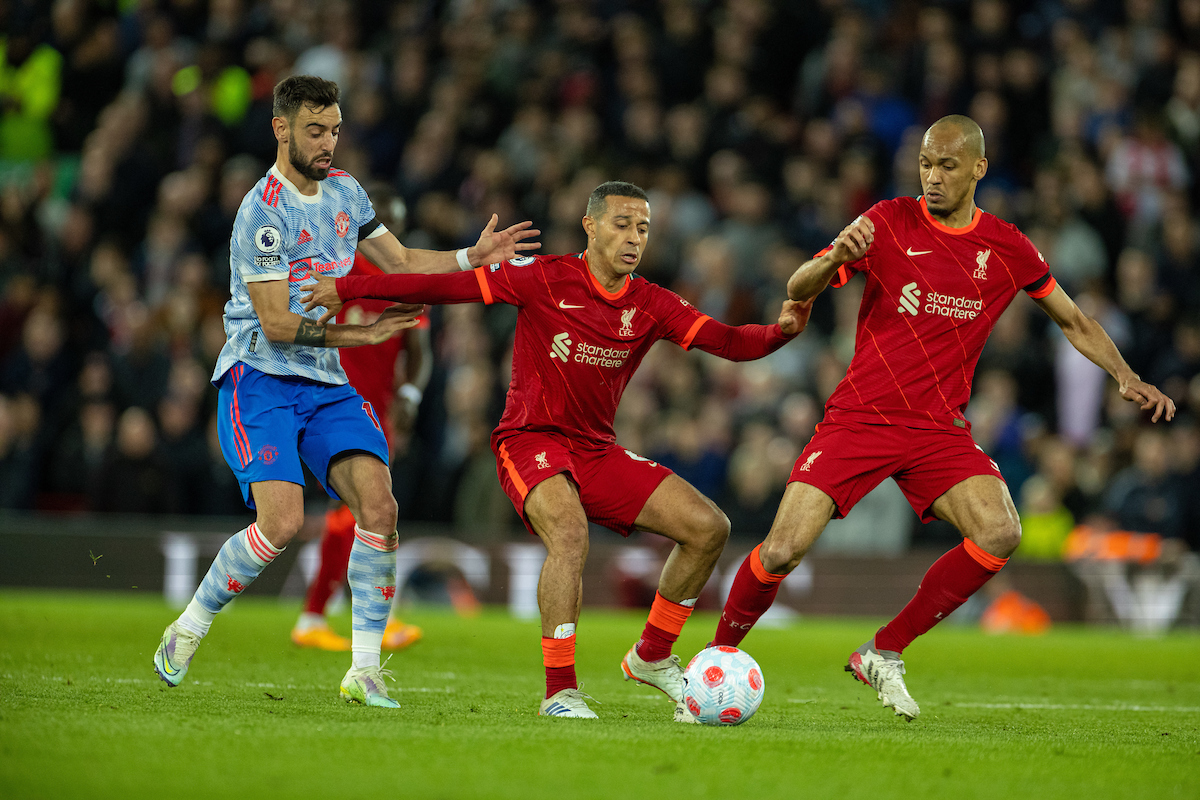 I'm amazed at how comfortable he looks with the ball at his feet, like a kid in the playground totally unfazed by what's going on around him. A deep ball from 60 yards? Very well. A perfectly executed half-volley on the opposite flank? Why not? He makes the most difficult things easy without effort.
He is an extremely gifted footballer in possession of the ball, but it is his work off the ball that is equally impressive; trigger the press and recover the ball. On Tuesday night he covered more ground than any other player on the pitch, interrupting play on the rare occasions when United looked threatening.
When he plays in midfield, especially alongside Fabinho, everything else around him seems to work. The balance is perfect, the energy relentless, the creativity clear. He's the best and what he does, and this season Liverpool are reaping the rewards.
It was one of the best individual performances Anfield have ever seen. When he plays like that, Liverpool look unstoppable.
For a man, the Reds were a class above on Tuesday night, but it might well have been Thiago's best performance in a Liverpool shirt. This team is an entirely different prospect when he's on the pitch and keeping him fit for the break-in is key.
An absolute gem of a footballer. No one would dare to question its impact now.
---
For instant reaction to all the Liverpool news and events that matter to you, subscribe to The Anfield Wrap…
"Thiago, it's just insane how good he is, maybe the best midfield performance I've seen…. he beats people just shaking his head like a Beatle"

🗣 Post-game show

1️⃣ Download our app
2️⃣ Enjoy FREE Tokens
3️⃣ Access this show

📱👉https://t.co/yTcwWTZN7t👈📱 pic.twitter.com/MpVyUT3QAt

– The Anfield Wrap (@TheAnfieldWrap) April 20, 2022
Recent Posts: